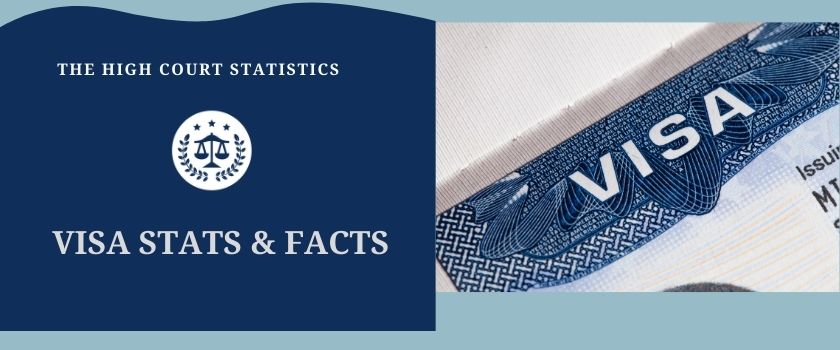 Visa rules and regulations vary from country to country due to different immigration systems. 
In some cases, getting your visa granted is a matter of course. In others, though, it requires submitting a lengthy application and a large number of legal documents to back it. 
In other words, it's quite complicated.
But don't worry:
At The High Court, we decided to help you out by digging deep into the latest visa statistics and visa data.
Here's a little spoiler.
Top Visa Statistics (Editor's Picks)
13.7%

of the US population are immigrants.

The US government issued

8,742,068

nonimmigrant visas in

2019

.

77%

of immigrants to the US are in the country legally.

Mexicans, Chinese and, Indians

make up the largest legal immigrant groups in the US.

Half of all refugees to the US in 2019

came from

Congo and Myanmar

.

In

2019

, the US government issued

59,191 immigrant visas to African citizens

.

In

2019

, most US immigrant visas for Europe were issued to

Albanian

citizens

– 4,736 visas

.
---
Visa Statistics by Region and Visas by Country
1. In 2019, 462,422 immigrant US visas were issued. 
(Source: State.gov)
According to the US immigration statistics, most visas went to individuals with a family-sponsored reference – 190,938. The second-highest category was immediate relatives, with 186,584 visas. 
These were followed by diversity immigrants (44,882), employment-based preference (28,538), special immigrants (11,384), and Vietnam Amerasian immigrants (96). 
For comparison, the total number of immigrant visas issued in 2016 stood at 617,752, immigration statistics by year confirm.
2. The US government issued 8,742,068 nonimmigrant visas in 2019.
(Source: State.gov)
Immigration statistics in the US reveal this was the lowest number of visas issued for the period 2015-2019. In fact, 10,891,745 visas were issued in 2015, which is over two million higher than the non-immigrant visa number in 2019. 
What's more: 
The number of nonimmigrant visas issued in 2016 was 10,381,491; in 2017, it was 9,681,913; and in 2018, it was 9,028,026.
3. The US government issued 59,191 immigrant visas to African citizens in 2019.
(Source: State.gov)
Egyptians got the highest number – 6,401. At the other end of the spectrum, the African country that got only one US immigrant visa issued in 2019 was Western Sahara. 
4. 185,464 US immigrant visas were issued to Asian citizens in 2019.
(Source: State.gov)
Out of the total number of US immigrant visas, most were given due to family preference – 88,127. As diversity visa statistics reveal, diversity immigrants were issued 5,842 visas. The highest number of US immigrant visas went to Vietnam – 32,867. In contrast, Timor-Leste got only one visa. 
5. A total of 41,273 US immigrant visas were issued to European citizens in 2019. 
(Source: State.gov)
As we mentioned earlier, the highest number of immigrant visas went to Albanian citizens – 4,736 visas. 
Some European countries didn't get a single visa in 2019, including: 
Andorra
Faroe Islands
French Southern and Antarctic Lands
St. Barthelemy
St.Pierre and Miquelon
Wallis and Futuna
British Indian Ocean Territory
Falkland Islands
Gibraltar
Pitcairn
St.Helena
St. Georgia and the South Sandwich Islands
Liechtenstein
Svalbard
San Marino
Vatican City

 
As you've probably noticed, most of these are overseas dependencies of European countries, which have tiny populations (or even no permanent populations at all), while others are micro-states.
6. In 2019, the total number of US immigrant visas issued to North American citizens stood at 147,303.
(Source: State.gov)
Considering the question of US visas issued by country, the largest number of US immigrant visas went to Mexican citizens – 54,545, while the lowest went to Barbadians – 122. Roughly half all (74,236) were issued to immediate relatives of US citizens. The least number of visas were given to diversity immigrants – 163. 
7. For Oceania, the number of visas issued by the US government in 2019 was 1,617.
(Source: State.gov)
It should come as no surprise that the highest number went to Australian citizens. Some countries in Oceania didn't even get a single visa in 2019: 
Tuvalu
Solomon Islands
Tokelau
Niue
Cook Islands
Nauru
Norfolk Islands
Cocos Islands

 
Most visas were issued on the basis of immediate relatives (614), while only 13 visas were issued to special immigrants. 
8. For South American citizens, the US government issued a total number of 27,574 visas in 2019. 
(Source: State.gov)
The highest number was issued to citizens of Ecuador (5,889), while only 70 visas went to citizens of Suriname. The top category was immediate relatives (13,030), while the smallest category was special immigrants. 
---
Immigration Report
9. Immigrants make up 13.7% of the current US population.
(Source: PEW Immigrant Share, PEW FactTank)
A Pew Research Center study from 2017 reveals that close to 14% of the US total population wasn't born in the US. That's equivalent to 44 million people.
Now:
In 2018, the total number of immigrants reached 44.8 million. This figure has quadrupled since 1965, with 59 million immigrants coming to the US during this period. 
Today, immigrants' share is three times more than in 1970, when immigrants made up only 4.8% of the US population. Nevertheless, the share is still lower than what it was back in 1890. In that year, 9.2 million immigrants lived in the US, comprising 14.8% of the total population.
10. 77% of immigrants to the US are there legally.
(Source: PEW FactTank)
Legal immigrant statistics suggest more than three-quarters of the immigrants in the US are legal. The number of illegals immigrants got three times higher between 1990 and 2007. 
By 2017, however, it had dropped by 1.7 million or 14%. So, in 2017, there were approximately 10.5 million illegal immigrants who are liable for deportation. That year, approximately 27% of immigrants were permanent residents. Another 5% were temporary residents.   
11. 45% of immigrants in the US in 2017 were US citizens.
(Source: PEW FactTank)
In 2019, about 800,000 immigrants applied for naturalization, according to US visa statistics. In fact, the number of applicants has risen in recent years. Even so, it remains well below the 1.4 million applicants in 2007. Although most immigrants apply for citizenship, that's not always the case.
Check this out:
Mexican legal immigrants are least likely to apply for citizenship and have the lowest naturalization rate, legal immigration statistics reveal. At the same time, Mexican immigrants (both legal and illegal, including the so-called "dreamers") accounted for 25% of the total in 2018. Some of the reasons for not applying for naturalization are lack of interest, financial and personal barriers, as well as the language.
12. Mexico, China, and India are the leading countries of origin of the US immigrant population.
(Source: PEW FactTank)
Mexicans make up a whopping 25% of all immigrants in the US (11.2 million). Chinese are second (6% or 2.9 million), followed by Indians (6% or 2.6 million), Filipinos (4% or 2 million), and Salvadorans (1.4 million or 3%). From the 1+ million new immigrants that arrive in the US every year since 2009, Asians outnumber Hispanics. 
Key takeaway:
[bctt tweet="Asians are going to be the largest immigrant group in the US by 2025." via="no"]
Visa Statistics by Type of Visa
13. Egyptian applicants won 6002 Green Cards in the 2021 lottery, Green Card statistics reveal.
(Source: Green Card)
When it comes to the Green Card statistics by country for 2021, most winners come from Egypt (6002), Algeria (6001), Sudan (6001), Iran (6001), and Russia (6001). Not all countries were allowed to participate in 2021, as we can see from the latest DV lottery statistics. 
Specifically, the citizens from the following countries weren't allowed to apply: 
Bangladesh
Canada
Brazil
Colombia
Dominican Republic
China (mainland)
El Salvador
Haiti
Guatemala
India
Mexico
Jamaica
Nigeria
Philippines
Pakistan
South Korea
United Kingdom (except for Northern Ireland) and dependent territories
Vietnam
14. The overall denial rates for immigration number of visas have increased by 37%.
(Source: CATO)
Naturally, not all visa applications are successful, and the Green Card denial rate is changing over the years. Denial rates for all types of immigration applications have increased by a massive 37% since 2016. 
Here's the thing:
The denial rate for I-129 nonimmigrant worker petitions increased by 6%. Additionally, the denial rate for I-485 family-based adjustments to permanent residence increased by 2.8% from 2016 to 2018.
15. The US grants more than 300,000 F1 Student Visas each year.
(Source: Immigration Road)
Asians accounted for 67.3% or 244,257. The leading three countries for student visas in 2018 were China, India, and South Korea. According to F1 Visa statistics, 27% or 98,904 F1 visas went to Chinese citizens. Indian citizens secured 11,8% or 42,694 visas. 
Next:
The second-largest proportion of F1 Visas by region went to Europe, 53,840 or 14,8%. Students also have the F1 Visa to Green Card program that grants them a Green Card if they get married or find an employer willing to sponsor them.
16. In the 2018 fiscal year, there were only 2,000 T Visa applicants, which is less than half of the available 5,000 visas, T Visa statistics reveal. 
(Source: Police Forum, Cis)
The estimates show that the number of victims of human trafficking is between 14,500 and 17,500 annually. Each year, approximately 2,000 applications are filed, and around 1,500 visas are granted. Unfortunately, this type of visa is widely underutilized in comparison to the more popular visa type – U Visa. 
Here's the deal:
The U Visa is available to victims of a much wider range of crimes, including human trafficking victims. U Visa statistics show the applications for this type of visa quintupled in ten years, from 11,000 in 2009 to 59,000 in 2018.
17. According to the Office of Immigration Statistics, the approval rate of O-1 Visas is between 80% and 95%.
(Source: STILT, Fragomen)
In regards to the O-1 Visa (Individuals with Extraordinary Ability or Achievement), the most recent statistics are the following:
First of all, the O1 Visa approval rate is high, between 80% and 95% in recent years. In Q2 2020, the figure stood at 89%. 
That being said:
There has been a decrease of 5% since the same period in 2019. At the same time, there has been an increase in the Request for Evidence (RFE) by 2% from Q2 2019.
Finally, the approval rate post-RFE declined by 2.2% since Q2 2019, USCIS data confirms.
18. In the 2017 fiscal year, 75,6% (276,423) approved H-1B visas were for Indian citizens.
(Source: Immigration Road, USCIS)
According to H1B statistics, a total of 365,682 H1-B Work Visas were approved in 2017, with just over three-quarters going to Indians. In 2019, out of a total of 421,276 approved visas, 313,944 went to Indian applicants.
The second-largest group of applicants is from mainland China. However, there was a significant percentage gap in 2017, as only 9.4% of applicants were Chinese. In 2019, this figure reached 11.8% (49,917). 
In 2019, all other countries had 1% or less each.
 19. The number of issued H-2A Visas rose from 31,892 in 2005 to 204,791 in 2019.
(Source: CATO)
H2A Visa statistics show the number of issued visas for agricultural workers is rising on an annual basis. On the other hand, the highest peak of H-2A admissions was in 2017 (412,820). 
The number of admissions exceeds the number of visas because one worker can be admitted several times on the same visa.
---
Visa Statistics and Immigration Levels
20. In 2020, 35% of respondents were satisfied with the level of immigration into the US.
(Source: Statista)
This is a crucial statistic on immigration.
Here's why: 
Since 2000, most respondents haven't been satisfied with the level of immigration into the US. In 2020, only 35% of respondents are satisfied with the immigration levels. More than half (57%) are dissatisfied. 
In the last two decades, the highest percentage of dissatisfied respondents was recorded in 2008 (72%). On the other hand, the highest percentage of satisfied respondents was noted in 2017 (43%).
21. In 2019, 35% of the respondents stated that the level of immigration should be decreased in the future, immigration statistics confirm.
(Source: Statista)
Public debates on immigration rates can be quite heated. That same year, 37% thought the present levels were fine, whereas 27% believed they should be increased. In 2018, 39% were satisfied with the current levels, 29% wanted them to go down, and 28% wanted them to go up. 
22. The number of immigrants is projected to rise to 78.2 million by 2065.
(Source: PEW FactTank)
US immigration stats from recent years suggest that the number of immigrants will continue to rise steadily. In fact, immigrants and their children will account for a mind-blowing 88% of US population growth through 2065.
Now:
[bctt tweet="The percentage of immigrant women who gave birth in 2017 was higher than that of US-born women (7.5% to 5.7%)." via="no"]
In terms of the total number, immigrant women gave birth to about 760,000 children, and US-born women gave birth to 3 million children.
23. Half of US refugees in 2019 were from Congo and Myanmar.
(Source: PEW FactTank)
According to US immigration data, no other country has a higher number of resettled refugees than the US. In 2019, the total number of refugees resettled in the US was 30,000. 
The Democratic Republic of the Congo and Myanmar are the largest origin countries. Ukraine, Eritrea, and Afghanistan are right behind. Of the total number of refugees resettled in the US in 2019, 16% were Muslims. The vast majority (79%) were Christians.
24. The immigrant share in 25 countries is higher than that in the US.
(Source: PEW Immigrant Share)
The US has the highest number of immigrants in the world. However, the immigrant share of the total population is not that high compared to other countries. According to the latest immigrant statistics, 25 countries and territories have a higher share of foreign-born people than the US.
Here's the scoop:
Some of the countries with a greater share of foreign-born people are New Zealand, Canada, Sweden, Austria, Switzerland, and Australia, to name but a few. ALtogether, about 3%-4% of the world's population lives in a country other than the one they were born in.
25. Between 2017 and 2018, the number of immigrant visas issued to Iranian citizens decreased by 81%.
(Source: Forbes)
Iran is one of eight countries affected by the travel ban the Trump Administration introduced in 2018, along with Iraq, Libya, Somalia, Syria, Yemen, Venezuela, and North Korea. According to the travel ban statistics, the decrease in the number of immigrant issued visas is even higher for Yemen (91%). 
---
Wrap Up
We can conclude that the number of US immigrant visas has gone down in recent years. This trend seems likely to continue in the near future. According to USCIS statistics, in 2019, about 834,000 new citizens were naturalized in 2019, and 577,000 were granted permanent residence. 
What's more:
Visa statistics reveal the number of people who are waiting for a green card or naturalization went down by 14% and 12% from the 2018 figures. 
In any event: 
Each Presidential Administration has its own immigration policy. And the issue, an inflammatory subject of heated public debate for so long, will continue to dominate the news headlines.
---
FAQ
Q: How many Green Cards are issued each year?
When it comes to the number of Green Cards issued per year, it's more than a million. According to the Green Card database, most go to the current Green Card holders and the families of US citizens. The other group of people that most commonly get a Green Card are workers from other countries who are looking for US employment.
Q: How many immigrant visas are issued per year?
According to the Department of State Visa Office, every year, the US government can grant up to 675,000 permanent visas in several different categories. 
Q: How many visas are there?
There are 185 different types of visas. However, in the US, they fall under two main categories: 
Nonimmigrant visa

for temporary visits, including work, business, tourism, studying, or visiting family

Immigrant visa

for individuals who like to permanently move to the US 
Q: How many K1 visas are approved each year?
The annual number of K-1 Visas, also known as fiance visas, has varied throughout the years, visa statistics confirm. For instance, in 2011, the US government issued 24,000 K-1 Visas, while in 2016, the number was 37,000. In 2017, it was 35,000.
Sources: