We have a little confession to make. Long before we conceived The High Court, we used to love Twin Peaks and The X-Files, as well as a bunch of procedural and legal drama TV series.
But you know what we love even more?
Criminal justice jobs 
That's because employment in this sector can take you on many different paths. Depending on your interests and strong sides, you can choose to work in corrections, law enforcement, customs and border protection, the Drug Enforcement Agency, the Federal Bureau of Prisons, Immigration and Customs Enforcement, as well as various private agencies.
What's more: 
The criminal justice careers in these areas range from forensics and investigations to psychology and social work. 
And if you have grown accustomed to working from home during the COVID-19 pandemic, criminal justice journalism jobs might be just the thing for you. 
With that in mind, let's see what's on offer.
---
Popular Criminal Justice Jobs  in 2021
Among the various criminal justice jobs on offer, we will be taking a look at the occupations of criminal justice lawyers, legal nurses, criminal justice technicians, law enforcement, cybersecurity, and counterterrorism jobs.
Along with the requirements, skills, and experience needed, you will see what your salary expectations should be and what the job outlook for some positions is. Last but not least, you will find the answers to some of the frequently asked questions.
Let's dive right in.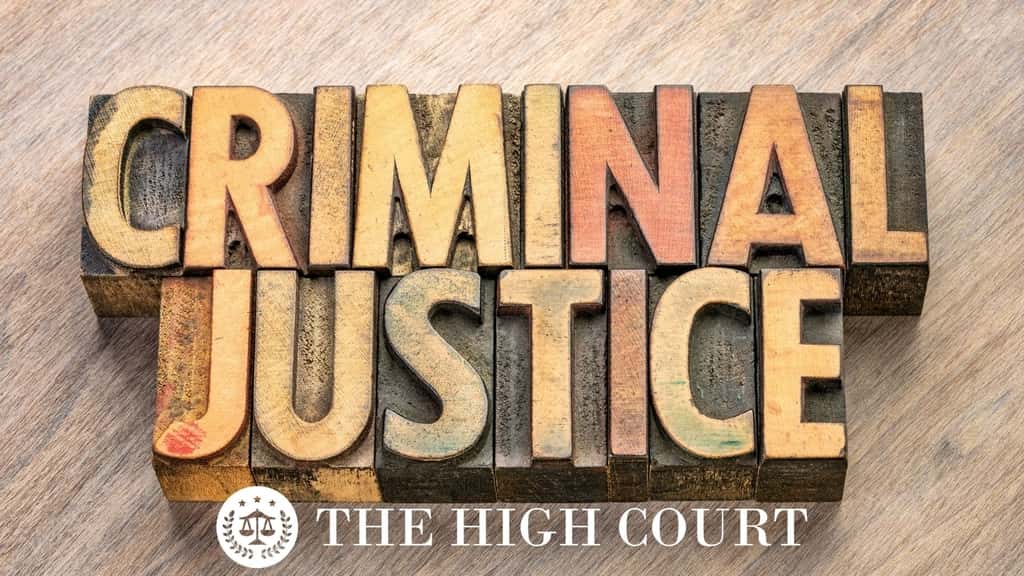 ---
Criminal Justice Lawyers 
Job Description
Criminal lawyers specialize in defending and representing clients in cases where they have been accused of committing a crime. They interpret laws and explain the legal options to their clients, and they research and present the case in court.
Criminal lawyers represent clients in state, federal, and appellate courts. The practice consists of bail bond hearings, plea bargain and punishment negotiations, trials, appeals, parole and probation hearings, and legal remedies after convictions.
Educational Background
The first step to a career as a criminal lawyer is getting a degree from a 4-year college or university in a subject that will be useful later in law schools such as history, political science, and sociology. After getting the undergraduate degree and a Juris Doctor, you'll have to pass the final hurdle, the State Bar test.
Key Skills and Competencies 
Criminal lawyers need a specific set of skills and experience, including the following:
Bachelor's degree 

Juris Doctor from an American Bar Association accredited law school

Passed the State Bar exam

State license

Experience is preferred

Extensive knowledge of state, federal, and local laws

Familiarity with court procedures and evidentiary laws

Excellent written and verbal skills

Good research skills

Advanced critical thinking ability

Independent worker who is also able to fit in a team

Decisive

Good at problem-solving 

Ability to argue the case in front of a judge and jury

Highly developed creative thinking

Investigative, analytical, and research skills 

Strategic thinking

Great interpersonal skills

Ability to build a good rapport and trust with the clients 

High ethics and a sense of responsibility
Job Responsibilities
Criminal justice major jobs can be found in legislation. As a criminal justice lawyer, you will be:
Representing clients at hearings, arraignments, and in court

Conducting research and analyzing the case 

Investigating the case

Interviewing witnesses 

Predicting potential problems and outcomes

Coming up with defense strategies 

Explaining and interpreting the laws to clients so they understand their position and options

Presenting the case at court to the judge and jury

Presenting the evidence to the court

Writing legal documents, legal briefs, and appeals

Arguing appeals

Staying up to date with new laws and regulations or changes to old ones

Conducting negotiations to plea bargain and lesser charges

Negotiating punishments and settlements

Drafting, filing, and arguing motions to dismiss and motions to suppress

Traveling as the need arises
Salary & Job Outlook
Criminal lawyer salaries greatly depend on the size of the practice, the type of clients it takes on and, as always – location, location, location. That being said, salaries for public defenders and non-profit workers are the lowest in criminal law and range from $30,000 to $50,000.
People who aim for law firms can expect the highest annual pay, especially those in high profile firms with extremely affluent clients. Those salaries often go well into the six-figure range. 
The U.S. Bureau of Labor Statistics reports the following:
The median annual salary (for all lawyers, including criminal justice lawyers) is

$120,910

, which means

$58.13

an hour

The

top 10%

earners make over

$208,000,

equal to

$100 an hour

The bottom 10% earn less than

$58,220

or

$27.99

an hour

Judges and hearing officers earn

$117,190

on average

Paralegals and legal assistants make around

$50,940

Arbitrators, mediators, and conciliators earn

$62,270

a year on average
Related Jobs 
Associate Attorney

Lawyer

Defense Attorney

Trial Lawyer

Legal Secretary

Judge

Hearing Officer

Paralegal

Legal Assistant

Arbitrator

Mediator

Conciliator

Law Professor

Law Firm Administrator

Chief Legal Officer
---
Criminology (Law Enforcement) Jobs
Job Description
Police officers and criminal Investigators are some of the typical jobs in law enforcement. They investigate criminal activities, respond to emergency calls, and gather evidence. They also build cases in the broadest sense, from homicide and any type of violence and organized crime to theft and fraud. 
The job description includes surveillance, arrests, collecting and analyzing evidence, interviewing witnesses and suspects, testifying in court, and various other administrative and field activities. Career paths may include positions such as police officer, corporate security specialist, DEA agent, INS agent, ATF agent, homeland security agent, CIA agent, victim advocate.
Over the years, your career path in law enforcement can change course several times as you gain expertise and experience.
Educational Background
For a career in law enforcement, you can choose from two very similar degrees depending on your interests and future occupation – criminology and criminal justice. Those who choose criminal justice will study law enforcement and its workings. On the other hand, criminologists will look at the nature of crime and the reasons why crime happens, how to stop it, and what drives individuals to criminal behavior. 
From that, it's clear criminal justice students will go into law enforcement, while criminologists might take a more analytic investigative path.
Key Skills and Competencies 
For a law enforcement officer, you will need the following skills and experience:
High school diploma, GED

Graduating from the Police Training Academy

A criminology degree is preferred and considered an advantage

Active knowledge of local, state, and federal laws

Ability to stay calm under stress

Ability to critically assess the situation

Good self-control

Good communication and interpersonal skills

Ability to work in a team

Initiative and leadership skills

Good health and physical condition
Job Responsibilities
Some of the main tasks and responsibilities of people in law enforcement include:
Enforcing local, state, and federal laws

Responding to emergency and non-emergency calls and situations

Patrolling their assigned areas

Protecting life and property

Conducting interviews with victims 

Gathering testimonies from witnesses

Apprehending suspects

Transporting suspects

Gathering and logging evidence along with the crime scene technicians

Writing citations

Delivering warrants 

Writing citations, delivering warrants, and testifying in court

Preparing reports on incidents and activities

Carrying out emergency duties during cases of extreme weather conditions

Testifying in court

Operating the assigned vehicle in all weather conditions

Preventing and investigating illegal activities,

domestic disturbances

, and accidents

Conducting criminal and traffic investigations

Exercising judgment on the use of force and the appropriate degree of it

Understanding of legal documents in the follow-up process and investigation
Salary & Job Outlook
The Average salaries for law enforcement workers are very different, depending on the role and the employer. Here are some of the figures popular criminal justice jobs in law enforcement bring per year :
Correctional Officer – Jailer $44,357
Senior Corrections Officer $47,440
First-Line Supervisor – Manager of Corrections Officers $46,157
Police or Sheriff's Patrol Officer $53,426
U.S. Marshal $62,400
Police Detective $63,225
FBI Agent $65,513
Prison Warden $83,291
Related Jobs 
Some of the related jobs you can find on our law enforcement criminal justice jobs list are:
Homicide Detective

Criminal Investigator

FBI Agent

Police Officer

Corporate security specialist

DEA agent

INS agent

ATF agent

Homeland Security agent

CIA agent

Victim advocate

Correctional Officer
---
Criminal Justice Technology Jobs 
Job Description
In criminal justice careers, forensics occupations are among the ones growing in demand.
That's because technicians' role is crucial in evidence gathering, preserving, and later analyzing. 
Not for the fainthearted, investigating a crime scene can be gruesome and daunting but also very intellectually stimulating. As a criminal justice technician, you can expect to collect, process, preserve and later analyze fingerprints, bodily fluids, fibers, weapons, and every other kind of physical evidence.
Crime scene technicians usually work for crime labs, police departments, and government organizations, as well as coroner's offices and morgues. 
Educational Background
Crime technicians need to obtain at least a  high school degree or GED equivalent. However, a bachelor's degree in biology, chemistry, forensic science, or crime scene investigation will put you ahead of other candidates. An associate degree in relevant subjects and a crime scene technician certificate are also options that will improve your chances of getting hired.
Those applying for criminal justice technology jobs should: 
⓵ Obtain the degree, certification, and some experience
⓶ Pass background checks
⓷ Pass a polygraph exam
⓸ Pass a physical exam
⑤ Undergo psychological evaluation
⑥ Go through on-the-job training when hired, sometimes under the supervision
Key Skills and Experience 
Skills and experience necessary for criminal justice technology roles include:
Knowledge of federal, state, and local laws 

Familiarity with legal procedures

Military or law enforcement experience is an advantage

Proficiency in scientific software 

Use of design and photo imaging software 

Active listening skills 

Good written skills 

Highly developed critical thinking
Job Responsibilities
Crime scene technicians gather and save physical evidence from crime scenes. This includes:
Collecting, processing, and analyzing fingerprints

Collecting DNA samples

Choosing which evidence to collect

Gathering and preserving physical evidence 

Handling bodily fluids and weapons

Taking photographs

Creating crime scene sketches

Listing evidence

Transporting evidence

Running background checks on individuals 

Gathering data on vehicles 
Salary & Job Outlook
The need for forensics and crime scene technicians is constantly growing. So, those with the proper education and experience have room for advancement.
Salaries in this field vary depending on the employer, agency or department, education, experience, and location. According to the Bureau of Labor Statistics, the median salary for the role of forensic science technician is $58,230 per year. Employment is projected to be higher than in other occupations and will grow by 17% from 2016 to 2026.
Related Jobs 
Forensic Science Examiner

Criminal Information Systems Technician

Crime Scene Analyst

Crime Scene Investigator

Crime Scene Technician

Forensic Science Technician

Private Detective

Computer Forensics Investigator

Blood Spatter Analyst

Evidence Technician

Forensic Ballistics Expert

Forensic Science Technician
---
Cybersecurity Jobs 
Job Description
Global cybercrime is constantly on the rise, and cybersecurity experts are in extremely high demand especially looking at high-level positions. Every database, institution, and computer is at risk, and governments and companies need plenty of highly skilled workers if they mean to stay ahead.
Further reading: 
The most common employers of cybersecurity specialists that also might offer online criminal justice jobs are the government and its agencies, banks, airlines, organizations with large databases, and security consultancy firms.
Educational Background
Getting the right mix of education, experience, and certifications is the key to having a career in cybersecurity. There is an enormous need for experts and new cybersecurity professionals, with a shortage of the available workforce at the higher levels of expertise.
This means you need to go for your Bachelors and Masters degrees, certificates, and internships. If you add time and a lifelong learner attitude, you are all set for an exciting career.
Degree Programs
MS in Computer Science

MS in Computer Engineering

MS in Information Technology

MS in Cyber Security Operations and Leadership

MS in Cybersecurity Engineering

MS in Information Assurance

Specialty MBA 
Certifications
On their own, certificates are not enough. But getting the right one to spice up your resume might just get you a promotion or increase your entry-level job chances. Here are some of the most important certifications you need to get if you want to start or improve your cybersecurity career: 
CISSP – Certified Information Systems Security Professional. It's one of the most valued certifications for those aiming to get to higher lever cybersecurity positions. Especially for people looking to work at the Department of Defense, this certificate goes a long way.
CISM – Certified Information Security Manager. It covers governance, risk management, and compliance.
CISA – Certified Information Systems Auditor. It covers auditing, controlling, monitoring, and assessing information systems.
GIAC – Global Information Assurance Certification. Specific technical capabilities, intrusion detection, forensics.
CEH – Certified Ethical Hacker. One of the certificates that will make your way into entry-level jobs easier.
Key Skills and Competencies 
When it comes to cybersecurity, internships are everything. The chances of landing a job without experience in this field are slim to none. Even those aiming for entry-level positions need to have some experience, so it would be wise to find an internship while getting your degree.
Bachelor's or Master's degrees in computer science or a STEM subject are the most common for those who want to work in cybersecurity. Skills in this sector are not something you can gain all at once. Constant learning and keeping up to date with cybercrime innovations is crucial to staying relevant and advancing your career in these often remote criminal justice jobs. 
Job Responsibilities
Typical tasks and responsibilities of cybersecurity workers include:
Securing the IT infrastructure of the agency or company

Searching for vulnerabilities in hardware and software

Assessing risks 

Looking out for attacks

Preventing intrusions

Identifying the source of the attack and liaising with the police and other agencies

Building firewalls 
Salary & Job Outlook
Cybersecurity jobs come with annual salaries of $90,000 to $160,000, but some senior-level roles can go up to $300,000. Cybersecurity Analysts earn between $90,000 and $160,000 a year. 
Next:
An Information Security Analyst is the fourth-best technology job, with a medium salary of $98,350, according to the U.S. Bureau of Labor Statistics. Lead software engineers earn anywhere from $127,958 to $146,883.
The highest-paid are the senior level Chief Information Security Officers (CISO). Salaries are as high as $420,000 for the highest earners, while the median salary for these roles ranges from $140,000 to $300,000.
Finally, Penetration and Vulnerability Testers earn from $102,000 to $130,000, while Cybersecurity Forensics Analysts and similar roles earn $75,000 – $110,000 per year.
Related Jobs 
Information Security Officer

Penetration tester/ethical hacker

Security architect

Security analyst

Cybersecurity Forensics Analyst

Cybersecurity Incident Responder

Cyber Forensics Analyst

Information Security Analyst

Lead Software Security Engineer

Chief Information Security Officer (CISO)

Information Security Crime Investigator/Forensics Expert

Security Consultant

Cryptographer

Security Engineer

Technical Author

Data Scientist

Information Scientist

Database Administrator

Systems Analyst
---
Counter-Terrorism Jobs 
Job Description
Counter-terrorism professionals work to identify threats, predict possible attacks, disrupt terrorist groups and networks, and ultimately defeat them. Aside from that, counter-terrorism analysts and agents assess the risk, identify which targets are at the highest risk, how to protect them, and be ready in case of an attack with evacuation and response plans.
Educational Background
Counter-terrorism analysts and agents who want to be employed by the CIA need a Bachelor's or Master's degree in one of the following areas – international affairs, homeland security, national security studies, or a related field. Applicants also need a 3.0 GPA or higher and must be US citizens. Similar roles could ask for a Bachelor's or Master's degree in criminal justice or analytics.
The following steps will be required on your path to becoming a counter-terrorism agent:
① Attending a degree program
⓶ Gaining the experience required 
⓷ Applying for an open counter-terrorism position 
⓸ Undergoing medical and psychological examinations
⑤ Passing a drug test
⑥ Passing a polygraph interview
⑦ Agreeing to extensive background checks
⑧ Going through on-the-job training once hired
Key Skills and Competencies
Jobs in counter-terrorism require different sets of skills, some of which are:
Good data analytics skills

Understanding and use of data for validating threats 

Understanding of crime and demographics

Good data visualization

Ability to convey sophisticated data quickly and concisely so that reaction can be swift

Great communication skills

Ability to work with various agencies which are not always in agreement with each other,  such as the state or local police, governor's office, the military, and other federal agencies

Excellent critical thinking 

Highly developed creative thinking
Job Responsibilities
Counter-terrorism analysts are responsible for:
Analyzing the intentions of potential terrorist groups

Researching and uncovering the motives of terrorist groups

Predicting threats

Preventing attacks and disrupting terrorist groups plans

Disrupting and disbanding terrorist networks 

Studying the activities of terrorist groups

Reporting findings to intelligence agencies, the government, and law enforcement agencies

Assessing the group leadership

Estimating groups capabilities

Predicting the intentions of foreign and domestic terrorist groups 
Salary & Job Outlook
Salaries in counter-terrorism jobs go from $50,000 to over $100,000, depending on the job title, experience, and (you guessed it) location.
Counter-Terrorism Analysts earn an average salary of $54,308 to $80,505, while Information Security Analysts bring home $70,680 a year on average. Intelligence Analysts have a higher salary at $91,015, and for those working as U.S. Department of Defense Analysts, the annual salary is $90,802.
Related Jobs 
Counterterrorism Specialists

CIA Analyst

CIA Officer

Counterterrorism Analyst

Information Security Analyst

Intelligence Analyst

Forensic Accountants

Computer Forensics Investigators

Transportation Security Administration Program Analyst

U.S. Department of Defense Analyst

Secret Service Agents

FBI Agent

NSA Officers

Emergency Management Director.

Fusion Center Analyst.

Criminal Investigator

Border Patrol Agents

Law Enforcement Officers

TSA Screeners
---

Legal Nursing Jobs 
Job Description
One of the attractive criminal justice administration career options is becoming a legal nurse. 
Legal nurses work in law firms, insurance companies, various corporations' legal departments, healthcare facilities, or independent consultants hired by law firms or other institutions. 
Legal nurses research, review, and summarize medical records and standards of care, offer medical counsel in cases, testify as experts, assess care costs, review bills, and offer medical information to attorneys and staff. 
Educational Background
Legal nurses need to have nursing degrees and get an RN license and AALNC certification. They do not need legal education; however, added legal coursework that can be obtained at some colleges would provide certificates. You also need a nursing license in your state.
Those who have ADNs and follow AALNC's recommendation of getting five years of RN experience can become legal nurse consultants within seven years. The legal experience needed can be gained by completing paralegal or consulting courses or working with lawyers. 
Legal nurses who want to upgrade their education level can do that by getting an LNCC and obtaining a BSN or MSN. This leads to more job opportunities.
Attending law school in addition to nursing school can make you a nurse attorney. This means that you will not provide counsel; rather, you will be an attorney yourself. Aside from the law degree, this position also requires admission to a State bar association. 
Key Skills and Competencies 
Legal nurses should:
Have the required level of education

Be certified as a registered nurse in your state

In some cases, have an American Legal Nurse Consultant Certification Board certification (LNCC)

Pass background checks and drug tests

Have a required level of medical knowledge

Have high attention to detail

Be good at research

Have highly developed critical thinking in order to review medical records

Be familiar with legal terminology and practice

Have good reading, understanding, and reporting skills

Read, research, and report relevant case information

Undergo job training

Be highly organized

Have good communication skills
Job Responsibilities
The responsibilities and tasks of legal nurses may vary depending on the employer or your practice and often include: 
Testifying in court as an expert witness

Estimating care costs 

Participating in reviews and independent medical exams

Assembling evidence for the court cases

Interviewing clients

Drafting documents in medical cases with an attorney

Reviewing medical aspects of the cases and finding strong and weak points

Educating attorneys and paralegals about medical issues and healthcare in cases

Preparing medical chronologies and timelines 

Working with expert witnesses

Staying up to date with professional literature

Conducting research

Reviewing medical documents and records
Salary & Job Outlook
The Bureau of Labor Statistics doesn't have any specific data on legal nurses' salaries. That being said, registered nurses had a median annual salary of $71,730 in 2018. This number is projected to grow by another 15% by 2026.
Many of those choosing the occupation of legal nurse have their own practice and provide hourly services to law firms. The amount of money a legal nurse can make varies based on location, experience, expertise, and the number of hours.
The job profile is in high demand, and an increase of 7% is projected from 2019 and 2029, which is 4% higher than the national average for all other jobs. Legal nurses with over 3 years of experience can expect a salary of over $80,000, with the numbers climbing after 10 years of experience. Regionally, the highest-paid legal nurses are based in New York, St. Louis, and Atlanta.
Related Jobs 
Correctional Nurse

Forensic Nurse

Legal Nurse Consultant

Legal Nurse assistant

Nurse Attorney

Paralegal

Substance Abuse Counselor

Child Protective Services Worker

Parole Officer

Nonprofit Organization Advocate
---
Criminal Justice System Areas 
The three pillars of the criminal justice system are law enforcement, courts, and corrections.
Law Enforcement
In the law enforcement field, you can find some freelance criminal justice jobs, such as private detective or criminal investigator in some private agencies. Of course, the first thing that comes to mind when you think of law enforcement is the police.
Police officers, sheriffs and their deputies, and fish and game wardens are all responsible for upholding the law, offering protection and service to the public, and apprehending criminals.
The most popular roles in this domain are:
Police Officer

Homicide Detective

Criminal Investigator

FBI Agent

Transit Police
Courts, Prosecution, and Defense Lawyers
The highest paying criminal justice jobs can be found in the judiciary system. It takes over almost eight years of studying to start practicing criminal law and presenting cases in court. It represents the part of the system where justice has its say and where the facts of the alleged crime are brought in front of a judge and jury. This is why prosecution and defense lawyers are often seen as being at the top of the legislative system.
Most criminal justice jobs require working outside your house. However, if you are still looking at work from home criminal justice careers, journalist, courts reporter, or profiler might be your ideal vocation.
The most popular roles in this field are:
Defense Attorney

Trial Lawyer

Legal Secretary

Judge

Hearing Officer

Paralegal
Prisons and Probation Agencies
The corrections system takes in those sentenced for a crime or put on probation. They will be monitored by agencies or separated from the rest of society for the duration of their prison sentence. You can find easily part time criminal justice jobs in corrections, as prisons need a lot of workers for various profiles. Rehabilitation is the primary goal of corrections. So, psychologists, profilers, and social workers should not shy away from the least glamorous criminal justice branch.
Some of the most popular roles in this domain are:
Correctional Officer – Jailer

Senior Corrections Officer 

First-Line Supervisor – Manager of Corrections Officers 

Prison Warden 

Parole Officer
---
Criminal Justice Careers Benefits 
What's great about getting a job in this field is that criminal justice careers benefits are among the best. And for a lot of people, this is the most important thing. 
Having job stability and excellent retirement and health benefits while working in an intellectually stimulating or never boring workplace ticks all the boxes when you are about to pick a career. Helping others might not be the first thing that pops into mind. But inside the criminal justice system, there are plenty of occupations where you can make a difference.
Job stability is more or less guaranteed in this field, as crime is ever-present. As a result, the system always needs workers. Moreover, you are not in the private sector that the turbulent markets can influence easily. Public servants such as police officers and other criminal justice workers have some of the best health insurance benefits out there. The possibility of early retirement after just 20 years makes these professions very appealing to some. 
And that's not all: 
Other benefits include life insurance, training and tuition assistance, paid holidays, and sick leave. Federal employees have even better health insurance and access to the Attorney Student Loan Repayment Program. Another benefit is that you will rarely be bored working in the criminal justice sector. There is quite a number of occupations that will stimulate your intellect to the maximum.
Last but not least:
As a public servant, you will get a chance to influence society and make a positive difference. Helping others has proven to be one of the critical factors for people when assessing their happiness levels.
---
How to Start a Career in Criminal Justice
Criminal Justice seems to have hundreds of jobs to choose from. 
The $64,000 question is:
How to get started? 
There are many paths, but each occupation will require either a certificate or a degree.
Here's the scoop:
Criminal justice certificates are quicker and cheaper than a degree if you want to join the workforce fast. You can get them in two and four-year colleges. Usually, you have 4 or 5 core courses and get 12 to 15 credits. Since these courses last a few months, you can get an entry-level job fairly quickly and then continue to study while working. With a certificate, you can work as corrections officers, jailers, or bailiffs.
Higher education in criminal justice includes acquiring Juris Doctor or a Master's degree in criminal justice, corrections, criminology, or a related degree. Many positions require a couple of years of experience in the criminal law sector. You should check if your college helps its students with networking and look for mentorships. It's also a good idea to search out internships with the Police Department, FBI, CIA, or Social Work institutions and ACLU.
Finally, create a CV with keywords for your selected field in mind. If you meet the requirements, apply for a job even the ad doesn't resonate with you. 
---
Conclusion
What's most appealing when it comes to the criminal justice field? 
There's no single answer to this question. The thing is:
For some, it's the security of working in the public sector. For others, it's early retirement after 20 years of service. 
Of course, there's always that thrill that comes from solving cases and working on high-profile investigations with federal agencies. 
After all, who did not want to be Special Agent Dale Cooper or Agent Dana Scully when they were growing up? 
If you're already hearing the Twin Peaks or X-Files opening themes in your mind, check out some of the most frequently asked questions about criminal justice jobs below and go for it.
---
FAQ
Q: What jobs can you have with a criminal justice degree?
There are many jobs with a criminal justice degree waiting for you. It all depends on your field of interest. The most common career paths for those with criminal justice majors are police officer, corrections officer, parole officer, court reporter, forensic technician, private investigator, or psychological profiler.
For those with a Master's in Criminology or Biology, there are careers in forensics, such as
ballistics specialist, blood spatter analyst, crime scene investigator, criminologist, DNA analyst, fiber technologist, forensic odontologist, or homicide detective. There are also criminal justice degree jobs at the entry-level, such as paralegal, child protective services worker, or nonprofit organization advocate.
Q: What are some entry level criminal justice jobs?
Criminal justice system careers have a lot of available entry-level jobs in almost every criminal justice occupation. Entry-level police officer positions are extremely common, as are parole officers, probation officers, addiction counselors, technician trainees, corrections officers. You can also start as a paralegal, bailiff, firefighter, security guard, gaming surveillance officer, or private detective. However, it is more common for former police officers to go into careers as private investigators.
As a  criminal justice major, you can also start with an internship, such as a police department internship, social work internship, or an ACLU internship, or you can aim higher with CIA and FBI internships.
Q: What can you do with an AS degree in criminal justice?
An associate of criminal justice requires spending two years in full-time attendance. And while you might graduate faster in some programs or go slower if you are taking courses part-time, two years is what you can reasonably expect to reach the degree. From here on, many will go for a Bachelor's degree in the chosen field. Still, if you go for preliminary or on-the-job training, you can get entry-level roles in law enforcement, information security, emergency services, and criminal justice.
When it comes to criminal justice careers cost, the U.S. Department of Education estimates the average annual cost of an associate degree to be $21,141. Given that those are two-year programs, the total cost of an AS degree comes up to $42,282.
Some criminal justice career options at entry-level for those with an AS degree are:
Paralegal

Correctional Officer

Bailiff

Firefighter

Security Guard

Gaming Surveillance Officer

Police officer

Private Detective

Private Investigator

Case manager

Security Supervisor
Q: How much does it cost to get a degree in criminal justice?
The National Center for Education Statistics estimates that the average annual tuition at a four-year postsecondary institution cost about $16,320 in 2018-19. At public schools, the cost was $9,210, going up to $32,000 in private schools.
Q: What are the highest paying criminal justice jobs?
The top careers criminal justice salaries can be found in the following occupations:
Lawyer – $122,960
Homeland Security –  $77,000
Homicide Detective – $74,380
Forensic Accountant – $71,560
Forensic Psychologist – $69,510
Criminal Investigator – $67,170
DEA Agent – $66,450
Secret Service Agent – $65,000
FBI Agent – $64,060
Forensic Science Technician – $59,150
What you think the best criminal justice careers are will largely depend on your interests and how you want to spend your days. If you crave the excitement and mystery of the detective, after much hard work, a job with good benefits and a solid salary and a possible early retirement is waiting down the line.
If you prefer peace and quiet, among the many criminal justice jobs, the forensics lab or a position of a profiler or psychologist offers both mental stimulation and a good salary. The best career is often not the one that pays the most, as many people do not enjoy court dynamics, even if criminal justice lawyers' salaries are tempting.