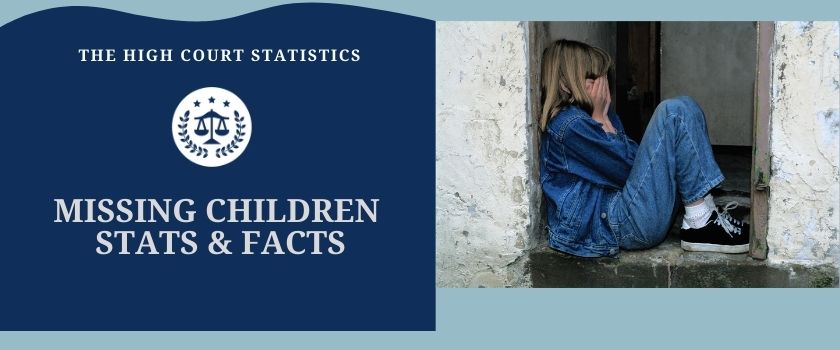 It might seem astonishing: 
But cases of missing kids today are on the rise. The number could have been even higher if not for the lack of a standard definition of the term "missing child." 
After all, missing could mean a lot of things. 
Sometimes, a missing child has simply run away from home. 
There are also missing children who would fall into the category of throwaways, meaning they are abandoned knowingly. But more sinister cases involve abduction, kidnapping, and even murder.
As a result, reliable missing children statistics are few and far between.
Don't worry, though:
At The High Court, we dug deep into the matter to understand the gravity of children disappearing and the reasons behind this unfortunate trend. 
So, without further ado, let's take a look at the latest missing kids statistics.
Shocking Child Abduction Statistics (Editor's Picks)
In

2019

,

421,394

children in the US were reported missing.

1

out of every

10,000

missing children reported to the police is not found alive.

In

2019

, the

National Center for Missing and Exploited Children (NCME)

assisted law enforcement and families with more than

29,000

missing children cases.

In the US, a child goes missing every

90 seconds

.

According to the

National Center for Missing and Exploited Children

statistics

, about

4,600

children are abducted by strangers every year.

In the

EU

, the reported

number of missing children

every year is

250,000

.

The recovery rate for

missing children in the United States

most difficult cases rose from

62%

in

1990

to

97%

in

2011

.

A family member masterminds

9%

of child abductions due to a custody dispute.
---
Missing Children Facts in the United States
Some children go missing for a day. Others are not found for months or even years. Frantic parents often seek law enforcement officers' help, but many are unable to locate their missing children. Stories like this pepper the news broadcast and papers, creating a buzz that can last for days and weeks. 
Missing children fall into different categories:
Endangered Runaway

Family Abduction

Non-Family Abduction

Abandoned or Unaccompanied Minor

Lost, Injured, or Otherwise Missing
Now, back to the stats:
1. 35% of the active missing person records are juveniles under 18.
(Source: CNN) 
The FBI's National Crime Information Center (NCIC) Missing Person File has recorded a total of 87,438 active missing persons. Around 30,618 of these are juveniles. Some of these missing juveniles were miraculously found years later. But others met tragic fates, with many unsolved kidnappings in police reports.
Such was the case of Carlie Brucia, an 11-year-old girl kidnapped on her way home from school. Her body was found five days later. Since the abduction was recorded by a surveillance video at a car wash, the perpetrator was caught and sentenced to death. 
In 1993, 12-year-old Polly Klaas was abducted from her home in California. The culprit was arrested and later confessed to the crime. He was sentenced to death for abduction and murder. This particular kidnapping case motivated the state to pass the "three-strikes" law, which gives a life term to convicted felons who commit the crime for a third time.
2. Every year, around 460,000 children are reported missing in the US.
(Source: NCMEC)
According to NCMEC, up to 91% of stats on missing children could be attributed to endangered runaways. This figure is based on the 29,000 cases reported to the organization. Most of these runaways are between 15-17 years old.
Runaways can often face several risk factors, including child sex trafficking, drug or alcohol involvement, mental health condition, suicidal tendencies, gang involvement, and online enticement, among many others.
3. 99% of runaways return home.
(Source: Child Find of America)
While runaways make up the bulk of missing kids report, it is good to note that most of them actually return home. Most of the time, the police are not even contacted. However, there were cases where police were asked for help in locating the runaways. Sometimes, they were involved because the youth were picked up for suspicious or criminal activity.
4. Only 1 out of every 10,000 missing children is not found alive.
(Source: Polly Klaas Foundation)
Luckily, the probability of recovering missing children in the USA alive is extremely high. In fact, studies found that 99.8% of missing children come home. Some were located, while others were returned home alive. Most of the cases pointed to children who simply misunderstood directions or had miscommunicated their plans. Others were lost, and many ran away.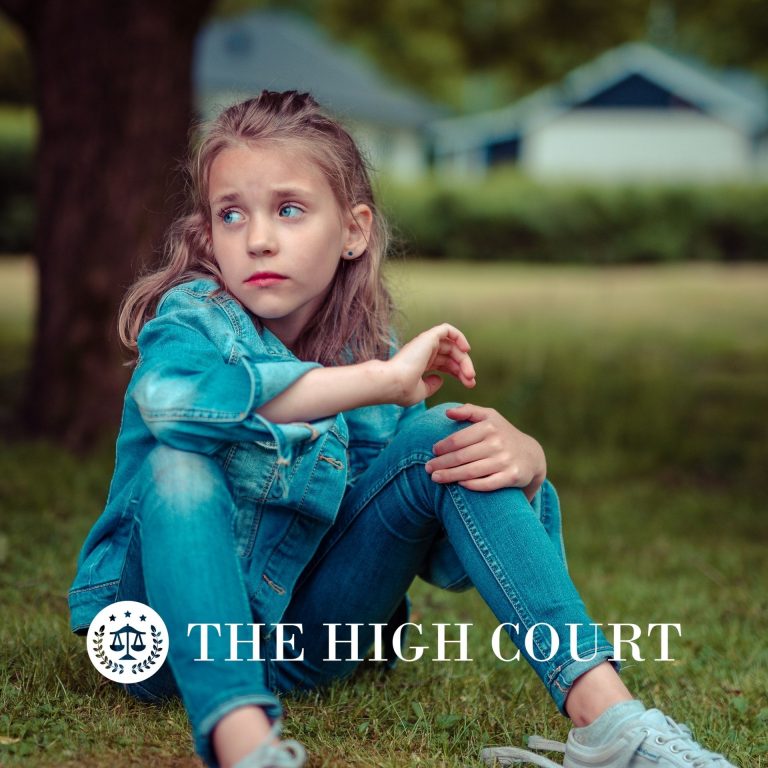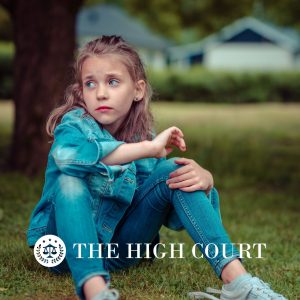 5. Every 90 seconds, a child goes missing.
(Source: BBC)
This statistic might be old, but there has not been any major study missing children since it was conducted. According to a study funded by the US Department of Justice in 2002, 797,500 children were reported missing across the country. The study itself analyzed data from 1999 with a range of sources, from police missing kids reports to interviews with parents and children. 
Since there were 72 million under-18s in the US during that period, this amount to 1 child missing every 90 seconds.
 6. 9% of child abductions are masterminded by a family member due to a custody dispute, child abduction statistics reveal. 
(Source: Reuters) 
In 2016, the number of people under the age of 21 who were abducted by strangers was around 303. This means that most abductions are not conducted by mere strangers. In fact, most cases of kidnapping are done by non-custodial parents. Child kidnapping statistics from 2017 demonstrate this, with 2,359 cases of children of divorce family abductions. 
7. According to stats on child abduction, every year, an estimated 203,900 children are victims of abduction.
(Source: Child Find of America)
According to the 2002 study, more children were victims of abduction orchestrated by their own family every year. These are mainly parents who did not have custody of their children. 
Around 35% of these abductions involved 6- to 11-year-old children for a period that could last from one week to one month. Family abductions were often intended to affect the custody battle. In 66% of those cases, the abductor was a male relative.
8. About 4,600 children are abducted by strangers every year.
(Сource: Poynter)
According to the National Center for Missing and Exploited Children statistics, the number of children abducted by strangers every year is just below 5,000. Of the non-family abduction cases reported to the NCMEC, around 20% are not found alive. 
Typically, the first contact between the perpetrator and the victim is usually within a quarter of a mile from the child's home. This is apparent in 80% of stranger abductions. The majority of the abducted victims by strangers are girls. 
9. Law enforcement agencies use AMBER alerts to notify the public.
(Сource: Federal Communications Commission) 
Named after 9-year-old Amber Hagerman, who was kidnapped and brutally murdered, the AMBER Alert System was established in 1996 by a group of Dallas-Fort Worth broadcasters and local police in an effort to find abducted children. It is used only for the most serious child abduction cases, such as when authorities believe the child is in grave danger.
The alert is done through issuing photos and information about missing children and suspected abductors, along with contact numbers for those who want to report sightings and provide information.
10. Of the most dangerous cases in the US, the recovery rate for missing children rose to 97% in 2011, up from 62% in 1990. 
(Source: CBS24) 
Thanks to more modern tools and improving technology, the recovery rate for missing children has increased. With a few exceptions, most missing children, whether they are runaways or abducted, are often found alive, US kidnapping statistics confirm. The Amber Alert has played a significant role in this. Since its implementation in 1996, a total of 957 children who have been successfully located and recovered. 
---
Missing Children Worldwide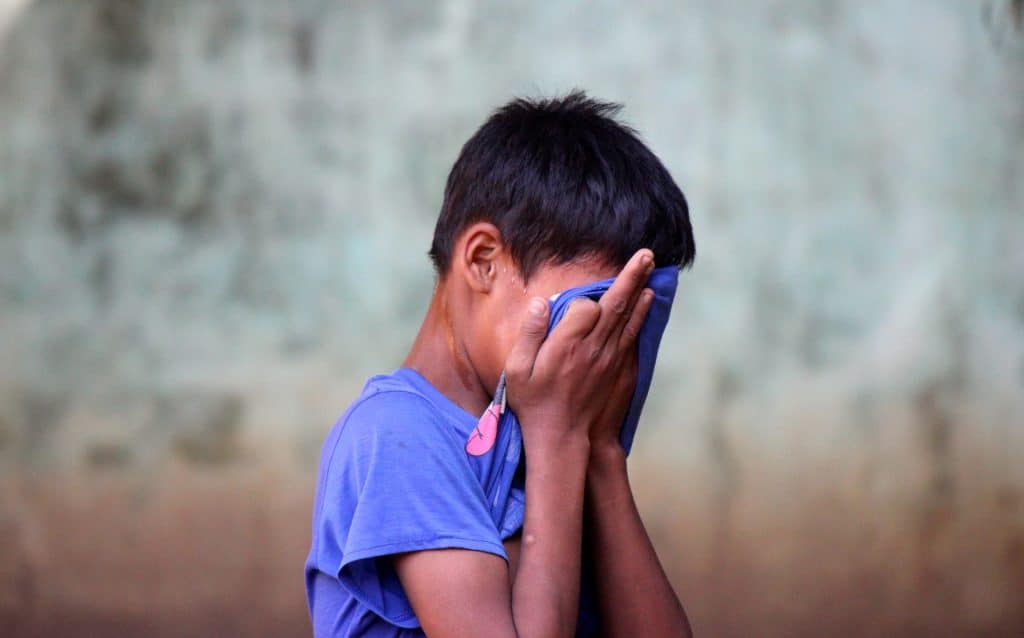 11. An estimated 112,835 children are reported missing in the United Kingdom every year.
(Source: ICMEC,  missingpeople.org.uk) 
The missing children UK reports showed that children are more likely to be reported missing than adults. In fact, 1 in every 200 children goes missing every year. Some of the most common reasons for missing children include conflict, abuse, neglect at home, sexual exploitation, and mental health issues. 
However, the numbers found in police data are likely to be mere estimates. It is highly likely that some cases go unreported to authorities.
12. In the EU, one child goes missing every two minutes.
(Source: Missing Children Europe and AMBER Alert Europe) 
The numbers are staggering. The EU's child abduction statistics by year suggest 250,000 children are missing every year. In 2019, there were 35 AMBER alerts issued for 35 children, 89% of whom were successfully recovered. The highest number of alerts issued came from Czechia.
13. One child in India goes missing every eight minutes.
(Source: BBC) 
The painful truth about India's missing children is that they barely make the news headlines. Millions in missing children statistics in India end up in forced labor. Others become domestic slaves and sex workers, fueling a lucrative industry and nationwide trade of child trafficking.
14. There are an estimated 70,000 missing children in China every year.
(Source: CGTN)
A non-profit online platform was launched to collect and provide information on missing children in 2007. More than 48,000 families registered, hoping to search for their children. According to CGTN's analyzed data from the website, many missing children statistics were cases where they are abandoned or given away. Child trafficking is also rampant, especially during the summer.
15. Half of the 44,000 missing people in Africa are children.
(Source: ICRC)
Of the disappeared across the African continent, around 45% are children. Most of the cited reasons include conflict, violence, migration, and climate shocks. Approximately 82% of ICRC's caseload comes from Nigeria, Ethiopia, South Sudan, Somalia, Libya, the Democratic Republic of Congo, and Cameroon. Out of these, Nigeria leads with 23,000 reported people missing, missing persons statistics by country reveal.
16. In South Africa, a child goes missing every five hours.
(Source: Missing Children South Africa) 
The figure was provided by the South African Police Service Missing Persons Bureau. Of these reported missing children, around 77% are found. However, 23% of them are suspected to be trafficked or found deceased. Some were never found.
---
COVID-19 and Missing Children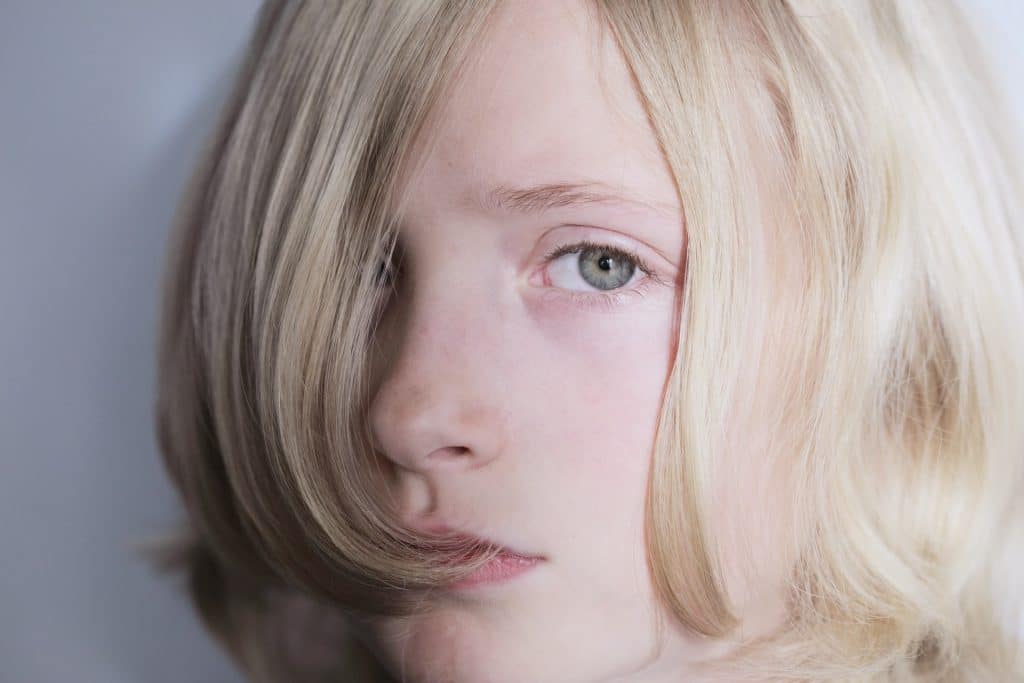 17. Seven countries in Africa saw a rise in the number of missing people during the COVID-19 pandemic.
(Source: ICRC) 
According to the data from the International Committee of the Red Cross, Cameroon, the Democratic Republic of Congo, Ethiopia, Libya, Nigeria, Somalia, and South Sudan all saw a rise of people registered missing in the first half of the year, missing children statistics for 2020 confirm.
What's more:
The onset of COVID-19 hampered search attempts, with some countries suspending domestic travel between states and provinces. Some search operations were also halted in the effort to limit the risk of COVID-19.
18. COVID-19 poses a challenge in the fight against child sexual exploitation.
(Source: NCMEC)
NCMEC has reported the increasingly open discussion from predators who want to use the pandemic as an opportunity to persuade unsupervised children into producing sexually explicit material. According to child abduction stats by year, the online enticement reports have gone up from 6,863 in 2019 to 13,268 in 2020. 
While the traffickers and buyers are more reluctant to arrange in-person meetings, parents should not be complacent when it comes to their children's wellbeing. Some of them can still be lured by the people they meet online.
19. COVID-19 has significant roles in 273 missing child cases, according to child abductions statistics by year.
(Source: NCMEC) 
While it's not conclusive, NCMEC has observed the effects of COVID-19 on recent missing children cases. The organization received reports where some children ran away from home because they were frustrated with the restrictions brought on by the pandemic. 
There were also notable cases where children left their group homes for fear of catching the virus. A number of cases involved parents with visitation rights refusing to return their children because they were concerned about being exposed to COVID-19.
20. UK authorities have identified 4,550 children as potential victims of trafficking.
(Source: The Guardian)
In the UK, there is a surge of missing vulnerable children. Most of them are unaccompanied children who applied for asylum. Following the UK government's move to cut safeguarding during the pandemic, the number of missing unaccompanied youngsters from the UK's care system significantly soared. 
And that's not all:
There were documented cases since the beginning of lockdown from three charities. The government's decision to reduce protection has prompted many trafficked and unaccompanied children to be targeted by traffickers and criminals. Before the legislation, trafficked and unaccompanied children were 30 times more likely to go missing. The recent move has compounded the issue even further.
---
In Conclusion
The list of missing children grows year after year. But efforts from many agencies and law enforcement authorities, coupled with the advancement in tools and technology, can hopefully lower the child abduction rates by year even further.
While it's always shocking to hear about abductions by strangers, it's important to note that these cases are pretty rare compared to abductions done by family and acquaintances. 
Parents who want to safeguard their children should keep this in mind. They must be extra vigilant when it comes to their children's activities and the people they are mingling with. In the internet age, it is easier than ever for unsavory characters to entice and lure their victims through online interactions.
Fortunately, the missing children statistics in recent years have been considerably lowered. Let's hope this positive trend is going to continue.
---
FAQ
Q: How many children go missing every year?

 
On a global scale, it's hard to ascertain the number of missing children per year. As mentioned before, the challenge lies in the lack of a common definition as to what constitutes a "missing child." It is also compounded by the lack of a seamless response to the issue. This results in a discrepancy in numbers. 
That is why the International Centre for Missing and Exploited Children has come up with the Model Missing Child Framework, which aims to assist countries in investigating, managing, and resolving missing children cases.
If we look at the United States alone, the statistics on missing children show 421,394 were reported missing in 2019. The worldwide records are not very reliable, but the ICMEC put it at around eight million.
Q: How many missing children are found?
Since the emergence of modern technology, it has become easier for authorities to locate an abducted child. The rate is even higher if we talk about missing children in general. According to the president of the National Center for Missing and Exploited Children, 99% of reportedly missing children in America have come home alive.
The most effective way to recover a missing child is to put out the child's photo in front of as many people as possible. The wider the reach, the greater chances of finding a key witness. The NCMEC employs a variety of strategies, using shopping bags and toll-booth tickets. Posting pictures of the missing child in shopper bulletin boards for popular stores like Wal-Mart and employing Amber Alerts can often get the job done.
Q: What country has the most child abductions?
While New Zealand tops the list of countries with the highest kidnapping rate, the abducted child statistics are not so clear cut. The records are mostly on missing children, but not all of them were abducted.
While kidnapping always makes its way to the headlines, cases of abduction are rare in the US, kidnapping statistics by year tell us. Since 2010, fewer than 350 people under the age of 21 have been abducted by strangers every year, according to the data from the FBI.
In Europe, around 19.2% of cases can be attributed to parental abduction cases. India has also seen a spike of child abduction stats in recent years, with the latest number of cases at 96,000 every year. Germany sees an even greater number of child abduction cases at 100,000.
Q: What state has the highest rate of child abduction?
Maryland has the highest number of unsolved missing children's cases at 119, missing children statistics reveal.
Sources: